There's no greater tragedy than the fact that Sex and the City will likely never come back for a third movie (we're waiting on you, Kim Cattrall!). We're tired of waiting, so we've got the next best thing—a trailer written by a robot. Just in time for the 20th anniversary, too.
In the next Sex and the City movie, written by an AI and airing probably never, our fab four ask deep questions of the soul—like whether it's worth it to give up orgasms to be a bride and what it means to "party like old butter."
So you know what? Let's just have the trailer do the talking.
Okay, so we've got a lot to unpack here. Let's zoom in scene by scene and try to extract as many details as we can about the (fake) conclusion to the Sex and the City trilogy.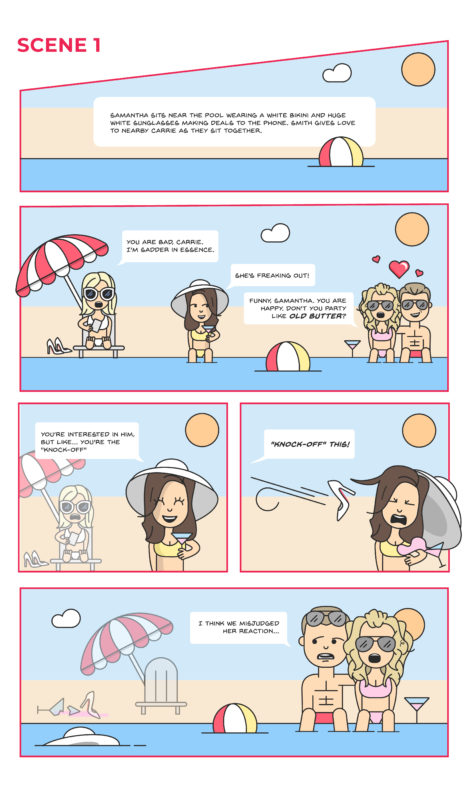 Scene One
Okay, so everything starts out normal: our girls are just chilling by the pool, doing what they do best—gossiping up a storm. Honestly, we have no idea what Carrie is doing with Smith (meanwhile, Samantha is making deals?), but it all comes to a head when Carrie drops the soon-to-be iconic "Don't you party like old butter?"
It's unclear what the statement means, but it's got to be an insult of some kind. Could this be the love triangle between Samantha, Carrie, and Smith we never knew we wanted? Is this going to be the end of Carrie and Big? Only time will tell.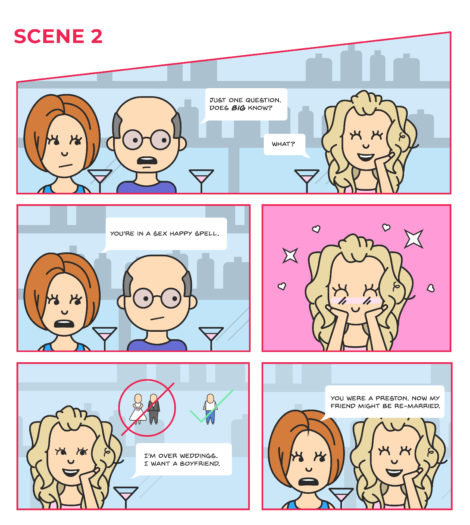 Scene Two
Nobody (except for Carrie) knows what it's like to be in a "sex happy spell," but whatever it is sounds fun.
We're reading between the lines here, but it feels like Carrie could be conflicted about the whole marriage thing. She specifically says she's "over weddings," and "wants a boyfriend." This feels like a Carrie existential crisis deciding between flings and commitment.
We know you watch Sex and the City for hard-hitting philosophical questions, and it feels like the third movie is going to nail them.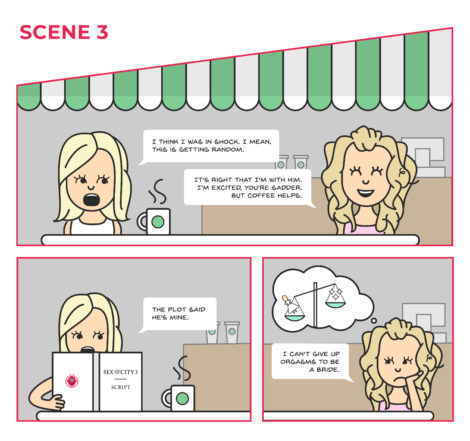 Scene Three
Okay, scene three of the trailer really confirms the whole Samantha vs. Carrie thing that's been brewing. Imagine saying to a friend "I'm excited, you're sadder, but coffee helps."
You can't say you're excited and then immediately follow it with how someone else feels sadder. It's not like coffee is going to fix everything, Carrie.
Not to mention, THE PLOT SAYS SAMANTHA IS GOING TO GET THE MAN. Okay, Carrie? It's like she's not even respecting the plot anymore. Yeesh.
Everyone knows marriage means saying goodbye to orgasms, and this whole scene suggests Carrie might be getting restless with Big. We know it's too early to know for sure, but we're rooting for Samantha in this clash of vixens.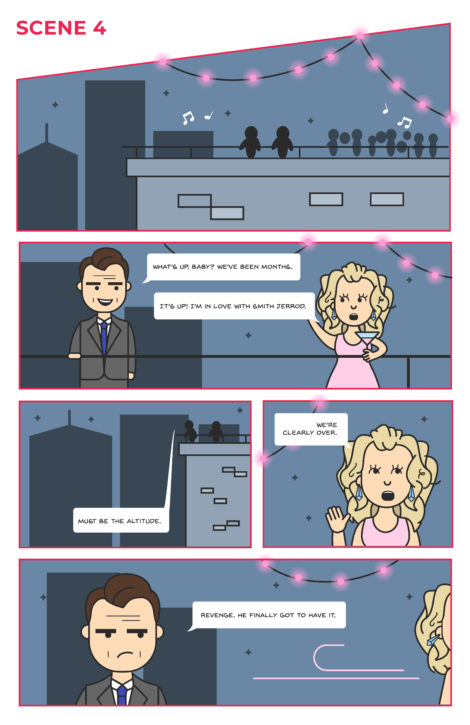 Final Scene
Okay, something is seriously UP with Big and Carrie. But let's be honest—how many of us have fallen in love with someone because of the altitude? Heights and hearts go hand in hand apparently.
Maybe Big will be right, and we can get Carrie to a lower altitude where she can come to her senses. These two can't be over, right? We can't live in a world where Carrie and Smith end up together.
The final scene teases us into thinking Carrie really has no idea what she's doing, and likewise, we have no idea what's going on. It feels safe to say that Sex and the City 3 would go places we've never gone before.
Sex and the City 3 written by a robot
Before you get too excited, just know that this Sex and the City script isn't real . . . yet. Okay, it probably will never be real, unless you are Steven Spielberg. Then you should email us, and just so you know, this script will cost you at least one billion dollars.
How did we create this beautiful script?
We can't take the credit for this work of art; we owe it all to data science.
That's a fancy way of saying we made a predictive text algorithm based on the first two Sex and the City movies—which is a fancier way of saying we forced a robot to absorb both Sex and the City movies (it's more humane than it sounds), and we had the AI spit out a few scenes that we strung together to make something resembling a trailer. We know it makes no sense, but it's nice to dream.