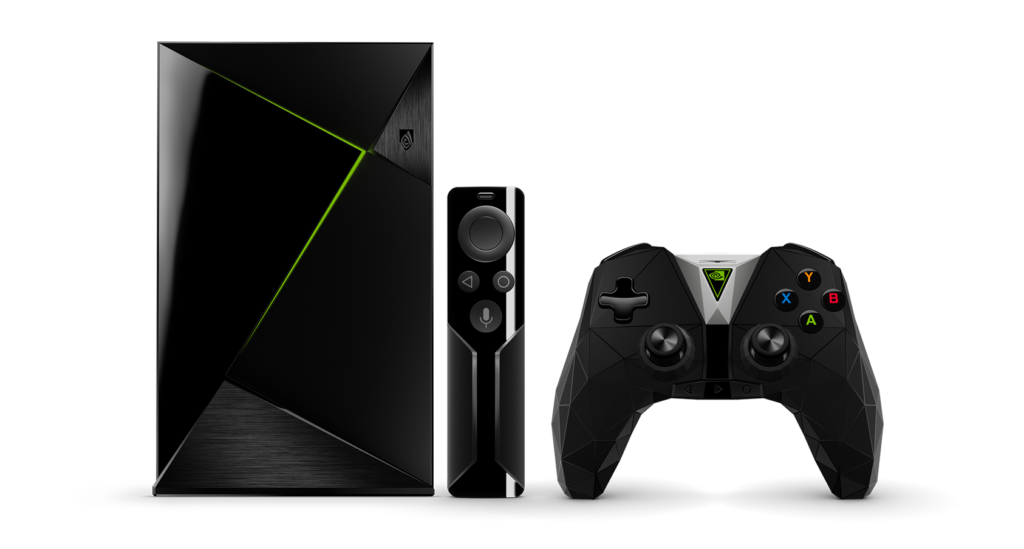 The Nvidia Shield TV is an Android streaming box with a hefty amount of processing power. At a price point of $200, the device is reasonably priced, but certainly not cheap. Its pricepoint falls between other streaming boxes and full-blown gaming consoles. However, compared to many competitors, the Nvidia Shield Android TV earns its higher price point. It's more than capable of streaming movies and TV shows, and is powerful enough for streaming PC games, DVR, and delivering 4k HDR video. In fact, the Shield TV is still one of only a handful of set-top boxes that offer 4k HDR.
To put it simply — The Nvidia Shield TV the perfect device for anyone who wants some serious power from their set-top box. We recently wrote about an opportunity to test out the new features through an Nvidia preview program. Now, we'll dive in deeper for a full NVidia Shield TV review.
NVidia Shield TV Review: At a Glance
We live in a world of ample options. Whether you're looking at brands of cereal or options for streaming devices, you are faced with a large and ever-growing number of options. When it comes to streaming players, some of the more popular models include Roku and Apple TV, with newcomers like the NVidia Shield trying to break into a crowded market. Today, we're here to look at the NVidia Shield TV, an advanced set-top streaming box. Here are the basics:
Full-HD Streaming – with the NVidia Shield Android TV, you can stream in full HD, all the way up to 4K HDR Ultra-HD.
Thousands of Apps – enjoy Netflix, Amazon Prime Instant Video, YouTube, Spotify and thousands of other apps on your device.
Serious Power – unlike cheaper steaming devices, the NVidia Shield TV specs are top-of-the-line. With some serious processing power, you can use all the apps seamlessly, and even stream HD games.
Voice Search – with Google-backed voice search technology, you can search across 100+ apps using your voice!
Gaming Enabled – love PC gaming? You can "cast" games from your GeForce PC to your living room, using your NVidia Shield TV. Play AAA PC games directly on your big-screen!
Exclusive Android Games – even if you don't have a gaming rig, you can still enjoy tons of Android games directly on the Shield TV. There are even some games made exclusively for Shield TV!
Advanced Gaming Controller – the NVidia Shield TV comes with both a standard remote for streaming, and an advanced gaming controller that rivals that of mainstream consoles like PS4 and Xbox One!
In short, the NVidia Shield TV is not your average streaming device. It packs a serious punch in the hardware department, and boasts advanced software with voice-search. It combines 4K streaming with the ability to enjoy HD gaming on your big-screen. Learn more about the device over at Amazon.
NVidia Shield TV Specs & Hardware
The NVidia Shield TV hasn't changed a lot from the first version. The look of the device and specs remain mostly unchanged. It still features the Tegra X1 Processor, 3GB of ram, and an 802.11ac Wi-Fi adapter. The similarity of the Nvidia Shield TV specs aren't a huge drawback though, as the Shield TV still packs more than enough power to run any app flawlessly.
Not everything is the same with the new version of the NVidia Shield TV, though. It is quite a bit smaller, which is impressive given the hardware that it contains. The game controller also received an upgrade and now offers up to 60 hours of battery life. The controller design changed as well and now features a video-game styled low-polygon design. It's comfortable and easy to use.
With a healthy Steam library, you could actually use the device as its own Nvidia Shield console, given how well games stream on it. The controller also includes an IR blaster, allowing users to change the volume or channel surf. Nvidia also bundles a standard remote control with a directional pad and voice search capabilities.
NVidia Shield TV Software
While the hardware improvements to the Nvidia Shield TV might be underwhelming to some, anyone can appreciate the huge upgrades to the device's software. Nvidia has taken user feedback to heart and removed the promotional list of their own apps that dominated the home screen in previous versions. Apps that had previously been a part of the "SHIELD Hub," such as Nvidia's cloud gaming service GeForce Now, have been rightfully moved to the gaming apps section.
Another huge improvement comes from the inclusion of the Amazon Video app. Nvidia has managed to bring the app to the Shield TV despite a rocky relationship between Android and Amazon that has kept the app off Android TV devices. Although it was previously possible to play Amazon Video through the Shield TV using complicated Chromecast workarounds, having the app on the device is much more convenient. This change was necessary, as Amazon Video offers a wide range of 4k content.
This isn't to say that the Shield TV's software is perfect. It still comes with the standard Android TV platform issues that you may have experienced on other devices. However, there are some improvements in the Nvidia Shield Android TV platform. The selection of apps is better, but still not as diverse as other boxes. Sifting through content can still be aggravating, with the Shield TV often dumping long lists of app-specific content for searches. Although, the integrated voice search technology has made the device much more user-friendly for searching.
NVidia Shield TV Review: Bottom Line
NVidia's newest version of the Shield TV set-top box isn't a big enough improvement to entice previous owners to upgrade — but it is an excellent choice for anyone that is looking for a new device with some serious power. As with previous Shield-branded devices, the Shield TV is an excellent choice for gamers and power users.
It's powerful enough to run any app on the Android TV platform, and the 4K HDR video and game-streaming features separate it from the competition. At $200, the Nvidia Shield TV sits perfectly between competing set-top boxes and game consoles, with the power to justify it. If you take anything from this Nvidia Shield TV review, it should be that it is the most ambitious set-top box on the market today. Learn more about the device at Amazon.com.