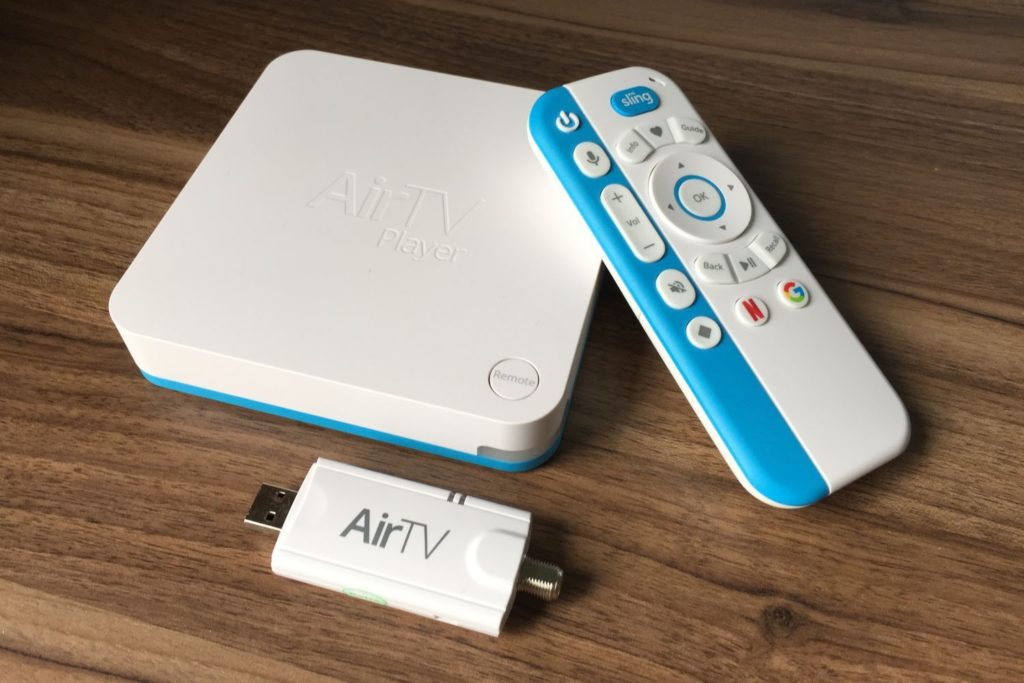 In this AirTV review, we'll answer the question "What is AirTV," cover the AirTV price, and explain the features it delivers to cord cutters. Did you know that all of your local channels are available for free with an over-the-air (OTA) antenna? The AirTV is a unique device that aims to connect your over-the-air (OTA) antenna with your Sling TV account to give a complete television experience. Keep in mind that the channel reception using OTA devices will vary by area. The AirTV also comes with built-in Netflix and Google Play apps.
Sling TV and Air TV are currently offering a great deal when you sign up for 3-months of service. Basically, you'll get an AirTV for $50 (normally $130) when you prepay for 3 months of Sling TV!
What is AirTV?
The AirTV is designed to be a cord cutter's go-to media box. It combines several of the most popular content streaming services into one convenient platform. The bundle also comes with a number of additional features that sweeten the deal. Let's take a look at the full list of AirTV features:
Full 4K HD-Streaming. The AirTV is one of only a few devices on the market that offer true 4K UHD streaming quality.
Sling TV. Both subsidiary companies of Dish, the Sling TV offers a la carte TV packages that start at just $20.
Local Channels Integration with Sling TV. The AirTV allows you to connect your OTA antenna directly into the box via an adapter to access to local channels directly from the SlingTV app.
OTA Antenna Adapter. The Sling TV bundle comes with an adapter, which connects your antenna to your AirTV box.
Google Play & App Store. The AirTV includes the complete Google Play app store, including the ability to rent or purchase movies and TV shows.
Netflix. Netflix is available on the AirTV, with buttons directly on the remote for easy access.
Bluetooth Integration. AirTV is compatible with devices like headphones and game controllers.
Multi-Device Remote. Your AirTV remote can be programmed to control your television and audio devices as well.
Voice Search. AirTV comes with voice search capability, making it easy to control without a remote.
Right now, you can get the AirTV for only $50 when you prepay for 3 months of Sling TV! The device is usually $130, so that's a savings of $80! Click here to learn more about the deal.
AirTV Review
The AirTV box is certainly a step in the right direction for cord-cutters. The ability to conveniently surf through local OTA channels directly through the Sling app ensures that you don't constantly have to flip between inputs and apps to reach the content that you are looking for.
The Sling TV AirTV combo is the perfect complement to any cord cutter's home setup. Additionally, the true 4k UHD streaming makes it one of only a handful of devices that are capable of playing true 4K. The fact that both Netflix and Google Play buttons come included on the remote makes it easy to switch between apps as well.
However, the AirTV is not a perfect set top box and does fall short in a few different areas. To start, the lack of a Hulu app on the device seems like an oversight. While not as popular as Netflix, Hulu is a staple service among cord-cutters and would be a nice compliment to the Sling TV, Netflix, and OTA channel support that is already offered. It also doesn't offer apps for some of the other most popular live streaming services, like DIRECTV NOW and fuboTV. Additionally, the device does not offer DVR like some competing products.
Overall, the AirTV is a solid set-top box that we recommend highly to users of Sling TV that want easy access to local channels. The combination of all your content makes things quite convenient, and the little box packs a serious processing punch.
AirTV Price
The AirTV bundle is available for $129.99 and includes the OTA antenna adapter that allows you to connect your OTA antenna. Additionally, both devices can be purchased standalone. Without the adapter, the box itself is available for $99.99. Most will need the OTA antenna adapter, so it is recommended that first time users buy the bundle. If you would like to save some money, Sling and AirTV are currently offering the AirTV box and adapter for $50 when you subscribe to 3-months of Sling TV service. Sling TV starts at $20 per month, so you could actually get the AirTV, Adapter, AND 3 months of Sling TV for $110, which is still less than buying the device on its own!
AirTV Review: Bottom Line
Hopefully this AirTV review has helped you decide whether or not the box is the right setup for your living room. The AirTV is an excellent set-top box for cord-cutters that are tired of switching between inputs and apps to access content. It is particularly useful to Sling TV subscribers, as it is able to incorporate your OTA antenna channels directly into the Sling TV app.
Learn more about Sling TV/AirTV bundle on the Sling website.